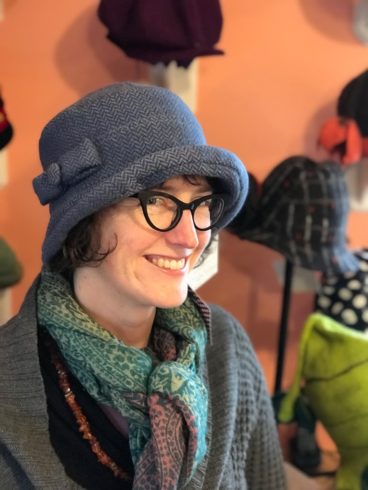 I try so hard to not mix hats and politics, but when a wonderful Nova Scotia politician goes out of her way to support a local hatter there's nothing left to do, but talk about the two things together in one place.
This is Lisa Roberts. She is the NDP MLA for Halifax/Needham. Lucky Halifax/Needham to have such a caring, intelligent and stylish representative in the legislature.
Lisa emailed me a couple of days ago and told me that she was heading out on Monday to Windhorse Farm for a community event and might she stop by afterwards for a hat and chat? I responded by telling her that I had just watched a video of her questioning the auditor general in the public accounts committee and was impressed by her calm, rational demeanor. I think I might have surprised her. I guess there aren't too many people who watch videos of public accounts committees for fun. What can I say? I'm a fabulously boring person at heart.
When Lisa walked in the door the first impression that came to mind was, Oh, it's me.
Do you see what I mean?
Well, aside from the two of us looking like long lost sisters, we were both equally passionate about small, local businesses that keep money circulating within their communities and who prioritize sustainability.
It's no surprise that Lisa gravitated right to this hat. The fabric on this hat is hand woven for me by Marrie Berkelaar of Double Whale Handwoven Designs, right here in Lunenburg. Marrie buys the wool from a small company in Quebec. You just can't get more Canadian than this hat.
I have so much respect for Lisa and all her convictions and it is a true honour to be so well represented at Province house.