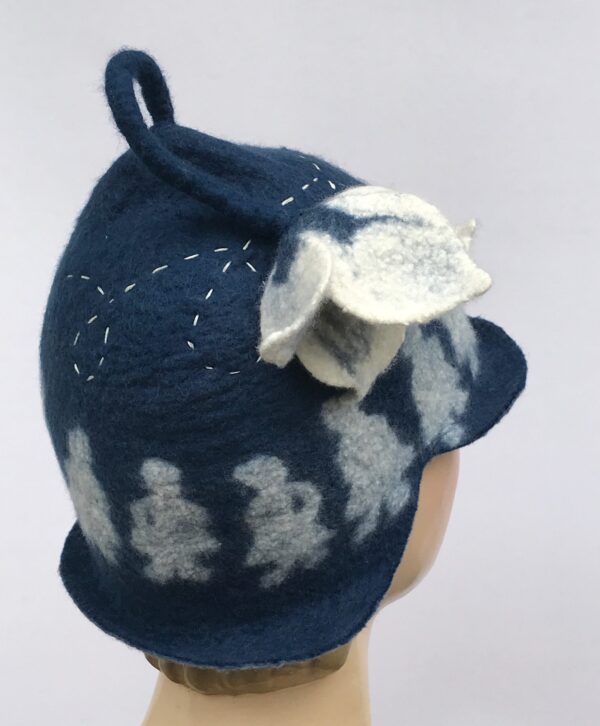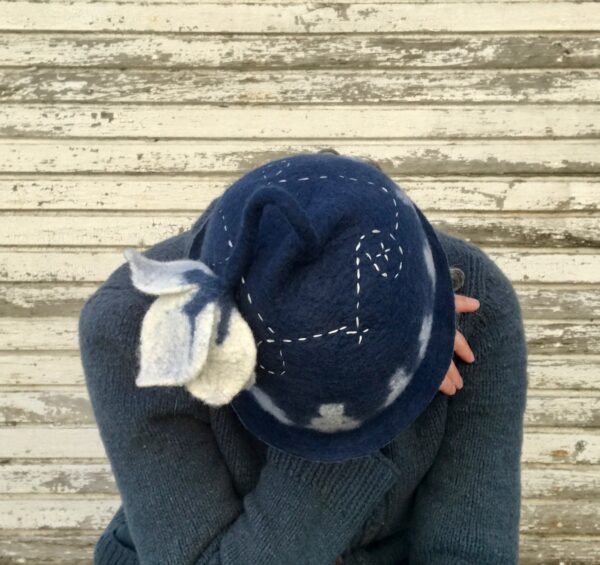 Sold- Hand Felted Merino Wool Cloche Hat with Paper Dolls
$325.00
One of a kind hand felted hat. Made in Nova Scotia, Canada
Out of stock
Description
This is a one of a kind hand felted merino wool hat. It is made by me in my Lunenburg, Nova Scotia studio. It fits a medium head size. It begins with a single wisp of wool and with the help of friction, soap and water becomes a hat.
The hat is very soft and very warm. It can be worn in the rain and the snow.
I think of this particular creation as being a very classic 1920s style cloche, except that it happens to have paper dolls and a flower coming out of the top. Maybe it's ever so slightly nutty.
If you think of yourself as also being classic, but ever so slightly nutty then this might be the hat for you.
Please, please measure your head before purchasing this hat. Your head size should fall between 22 1/4″ and 23″.
Take a soft tape measure and measure the circumference of your head just above the eyebrows, above the tips of the ears and around the bump at the back of your head. Be sure to not let the tape measure swoop down towards your neck. Measure a few times just to be sure.
This hat is ready to ship, so it will go out within 3 days of purchase.
If you don't love the hat when you receive it I will gladly take it back within 3 business days and offer you a full refund less my actual shipping cost.