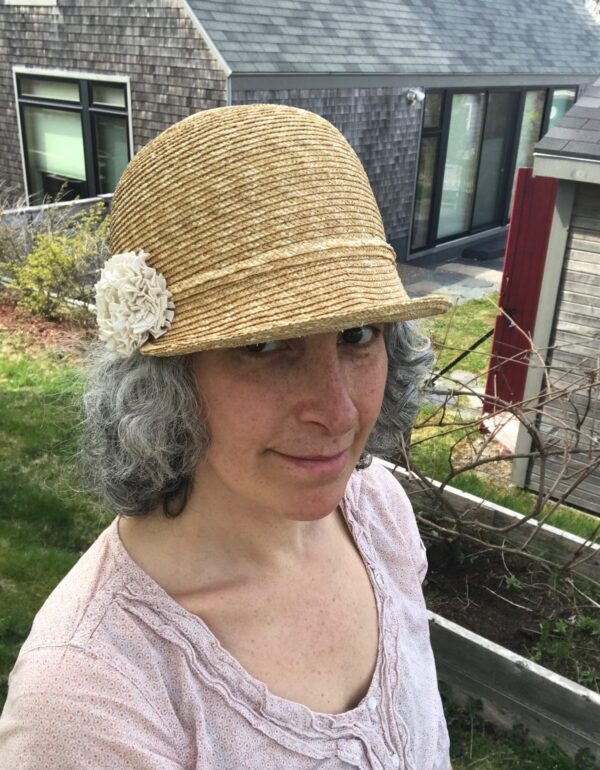 Straw Cap- Flapper Style- Wheat Straw- Size Medium
$350.00
1 in stock
Description
This flapper style straw cap will fit a medium head size. (measuring instructions below)
The hat was handmade on an antique straw braid sewing machine. The hat starts as a bundle of thin braided wheat straw that I sew in circles to form the hat. Wheat straw has a beautiful golden colour that deepens with exposure to the sun.
The cap is a fusion of a flapper cloche, a ball cap and a riding helmet. It's the perfect casual everyday straw hat. I made the flower from organic cotton and hemp jersey. The flower came from a book published in 1918.
This hat is not crushable. It is very durable as long as it is not sat on. With proper care it will last for many years.
There are 2 little vintage buttons on the side of the visor, perfect for holding attaching a mask.
Before purchasing this hat make sure your head size is between 22″ and 22.5″
To measure your head, take a soft tape measure and measure just above the eyebrows, above the tips of the ears and around the largest part of the back of your head. Try to not let the tape measure swoop down towards your neck. If you don't have a soft tape measure you can use a string and then carefully measure the string. Repeat this a few times to be sure that you keep getting the same number.