Cat on Lap While Knitting Hats
Finally, the weather is cooling down. The hand knit sweater collection is coming out of the drawers fast and furious. Much to my dismay, Devito (aka Devi) the kitten has a thing for buttons, so my cardigans have become easy prey. I have tried to cure him of this dastardly predilection, but it seems there is nothing to do, but knit more pullover sweaters.
What, you have a kitten that lets you knit, you ask? Sometimes. He goes through many degrees of rascality during the day. Early mornings are generally peaceful. He loves to curl up on my lap while I drink my coffee. This is where he garners his energy to begin his devilling. Once he has filled up on love he just goes. The poor old dog becomes a trampoline and all we can do is watch the show. It's an excellent lesson in detachment to material objects. (My curtains are so sad right now.)
Once he has destroyed enough objects in the house he settles in for a snooze. I promise you, he chose this spot all on his own. All in all, he is either being a peaceful adorable kitten or an evil predator. Hat production has become a bit more challenging, but I persevere.
Hat land has taken a slightly different turn this season. I have always been somewhat hidden from the tourists up here in my Lunenburg home studio, but Covid has made it really challenging for people to find me. People have often discovered me through tourist maps and my own brochure, but there are now less tourist maps and less places to put brochures. The result was a pretty quiet summer. Thank goodness for the internet and my lovely customers from around the globe. I am so grateful that you have kept me making hats.
I confess, that as an introvert ( a very sociable introvert) I have really enjoyed the peace and quiet of my silent studio.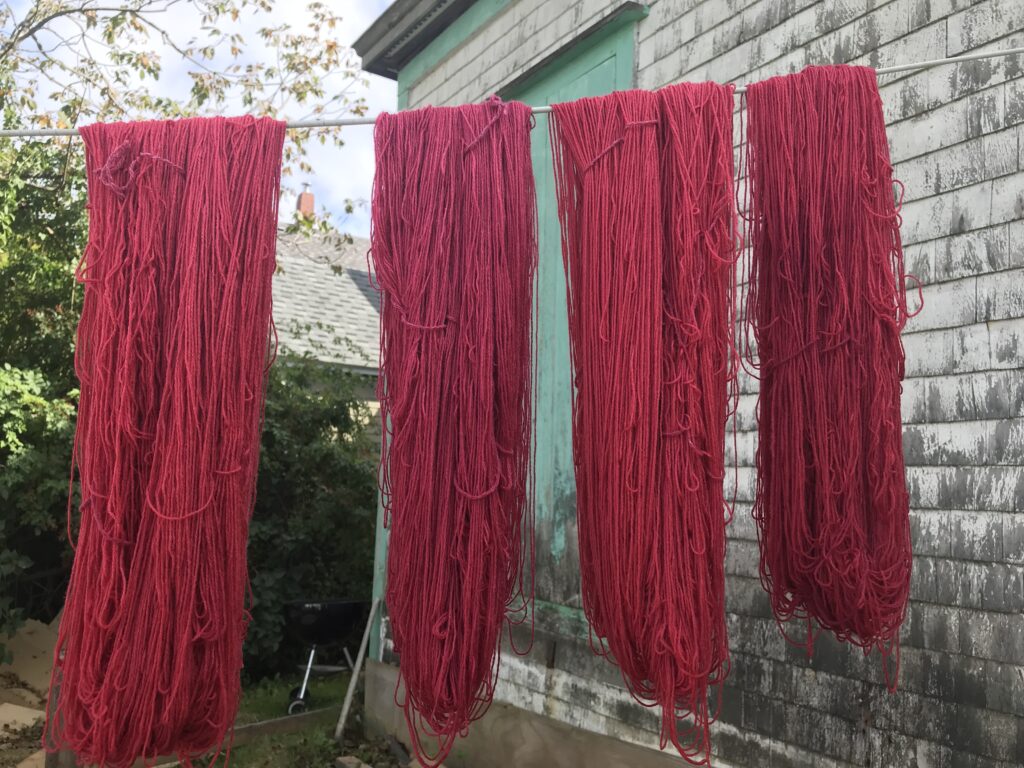 The quiet summer gave me the opportunity to play with naturally dyeing yarn. This batch was dyed with Cochineal. They are tiny little bugs from South America. They are one of the oldest sources of red. I'm fascinated by pulling colour out of the natural world. Natural dyeing is quite time consuming because the yarn needs to be scoured then mordanted with Alum (or other mordants) so that the wool accepts the dye and then it needs to be thoroughly washed out. Each step takes a day because the temperature needs to be raised very slowly and then very slowly back down again. This ensures that the wool does not turn into felt. I find the whole process very soothing and I am amassing quite the collection of naturally dyed yarn. Yes, it will be for sale soon. I'll be sure to let you know when it's available.
I have also added another layer of challenge to my livelihood. I spent so much of my hat making life figuring out tricks to shave time off of my production. Every once in a while I would take a break from production hats to make a hand felted hat, but I never charged enough for those hats to actually make a living. I just kept telling myself that nobody would pay what they really need to cost in order for me to keep the wolf from the door. But, as I have talked about in past blogs, I reached a point where I knew I was no longer following my heart. All the hats I really wanted to make were slow hats… hats with linings, hand knit hats, wet felted hats, hats made on my straw braid sewing machine. For me, happiness has always been in the details.
Much to my delight, I have found that my customers have come along for the ride with me. People seem to appreciate the time I put into my work and are willing to pay what it costs. The challenge is that I while I know how to market the old hats, the new hats are a brave new marketing world for me.
Because my polar fleece hats are faster to make I was able to wholesale them to many wonderful boutiques. They are also easy to sell on sites like Etsy. But I really can't sell these slower hats to stores. They just take too long. So, therein lies the challenge, how to reach more people like you who are willing to invest in quality? Your thoughts are totally welcome here.
But fear not, my popular, tried and true soft hats are still available. I totally understand their appeal and when I see your beautiful faces wearing these hats I feel nothing but gratitude.
I mean, look at Judy in her navy and cream polar fleece Charlotte hat. I feel privileged to make a hat for such a beautiful head.
Hopefully, I have not made anyone worry for me. Sometimes I just like to share some of the challenges of running a craft business, but I know I am truly fortunate. This is what my life looks like everyday. The path forward isn't always clear, but there are always new discoveries around the bend. I hope you are also enjoying the journey. Until next time….xo Anna p.s. If you have another moment take a look at my previous blog post. I'm so proud of that hat. p.p.s, Sharing this post on your social media channels really helps me out.