Lots of Charlotte Hats and a Turquoise Love Affair
Hello from beautiful Lunenburg. Today I offer you world respite in the form of a turquoise hat. Before I begin my turquoise tale, I will let you know that I have a batch of Charlotte hats ready to meet their heads and if listening to me wax eloquent about turquoise is not your cup of tea, feel free to jump ahead. I won't take it personally. And if you have decided to stay, I love you very much.
So, a lady walked into my studio (a noteworthy event these days) and we had a lot of fun together. She came on a mission. On her head was a very functional straw hat that served her well. She loved the depth, the size of the brim and the way it turned up and she wanted me to make a winter hat with the same specifications. With great fake confidence I assured her that I could do this. Actually, these kinds of requests always mildly freak me out. My preferred method of hat creation is to first make the hat and then find the head to go with it, but sometimes you gotta be a grown up and step outside your comfort zone. We played hat shop for quite a while and it was so fun to watch her enjoy the experience. When she tried on this beret….
….she knew that her hat needed to be turquoise. She also decided that she would like a hand felted hat. Music to my ears. I hate to play favourites but my felt hats are my favourite. The process of taking wool and turning it into fabric is just too much fun and with wet felting the possibilities are endless. There was a tiny obstacle in her request, namely that I didn't have turquoise wool, but it didn't take a whole lot of arm twisting to get me to place an order and also throw in several more colours while I'm at it. And so, a turquoise hat was born. Would you like to see what it looks like at the beginning of the process? Yes? Oh, good.
Is that not the coolest thing in the world? Wool, soap, water and a lot of friction…that's it. I'm not done yet with turquoise. I was so wanting to make red flowers, but the request was for black flowers. There will simply have to be more turquoise hats in my future.
Thanks for sitting patiently through my turquoise tale. Now we can chat about Charlotte hats. All of the following hats are available in my web shop. Just click on the photo.
My Scrappy Charlotte hats are one of my efforts to work with fabric scraps that would otherwise end up in landfill. This one fits a larger than average head size. It will fit between a 23″-23.5″ head size. There is no stretch, so make sure you have measured your head before ordering. The inside of the hat is lined with the most luxurious silk/cotton blend. You will feel like scrappy royalty with this hat on your head.
Oh, I'm sorry for this tease, but literally as I was pressing send to my email list, a lady in Alaska bought this hat. The good news is, now I will make another one in different colours. This Scrappy Charlotte was made from an old wool coat and scraps of locally handwoven wool. It is lined with a cotton and hemp fleece. Super cozy and soft, not to mention very warm. It will fit a medium to slightly above medium head size. It's a wonderful hat to wear in the most inclement weather. Wool is naturally water repellent and the thick lining will make it very wind resistant.
And next up we have some cozy polar fleece Charlotte hats. These ones do have stretch to them. I'd say they work best for a 22″-23″ head size. If you have a smaller or larger head size I am happy to make a special one for you. These are just the ones that I had time to make. Have you noticed that everything takes longer these days?
What can I possibly say about this hat other than cozy? I will mention that the band is not black. It is a dark forest green. It looks a bit darker in the photo.
If you have been following my blog for a while you'll know that I am using up the polar fleece that I have, but not buying more. I have plenty of some colours, but the turquoise is now officially gone. This is the last turquoise fleece hat I have. (but there's always felt)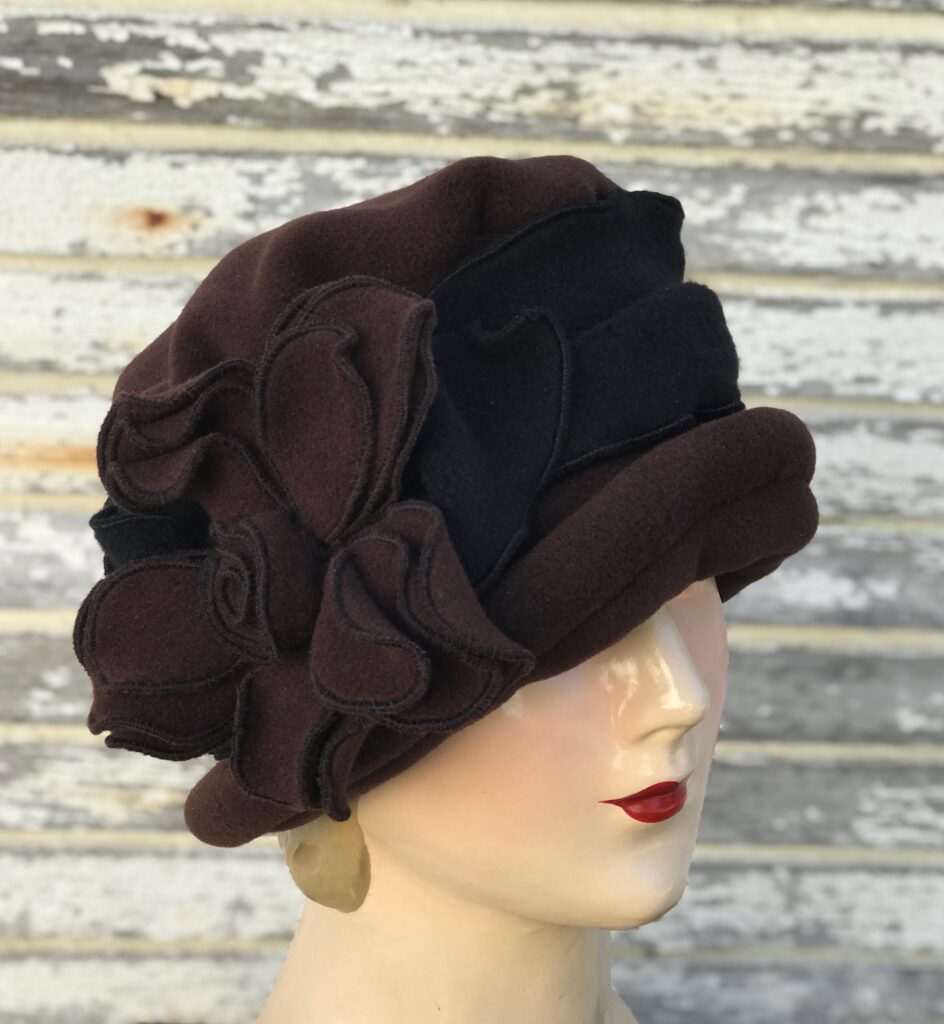 I always think brown and black are so beautiful together.
Purple and green is another recurring colour combination in my life. Did you know that they were the official suffragette colours, along with white? Oh, fine, since I mentioned Suffragettes I'll show you my Margaret Suffragette hat that I just shipped out to Virginia. A voting hat if there ever was one.
I almost forgot…my finished sweater! I'm calling it Pocket Full of Posies. During the Middle Ages people put flowers in their pockets to ward off plagues, so I thought it couldn't hurt.
…and with that, I wish you peace and love and health. I will chat with you all again, soon.