My Quest to Slow Down Time and lots of Slow Hats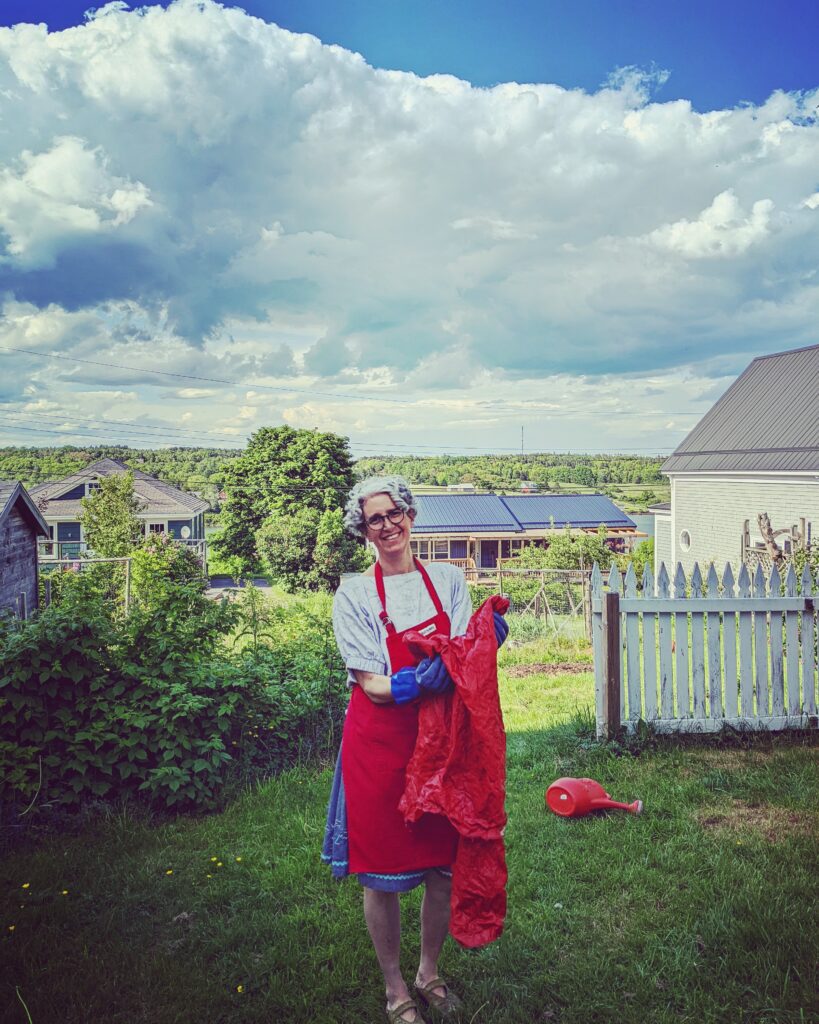 Hello, hello. It's been so long since I have had the time to properly chat with you. Time has a way of getting away from us, doesn't it? I have been digging my heels in the ground, valiantly trying to slow the world down, but I guess it's true what they say…time waits for no one.
I suppose, if I'm being honest with myself, my obsession with all things slow has something to do with this…
Do you recognize that little boy? That's Dustin, once known as Dusty, with his girlfriend, Celeste. Between them is my 12 year old puppy, Lego. There's just something about being the mom of an 18 year old that inspires one to try to control the passing of time. How did this happen????? I'm sort of coming to terms with the fact that my baby is no longer a baby and that I am powerless to slow down the world…..in this regard. But I have discovered that I can take all that powerlessness and channel it into my work. I may not be able to slow down life, but I can certainly slow down my hats.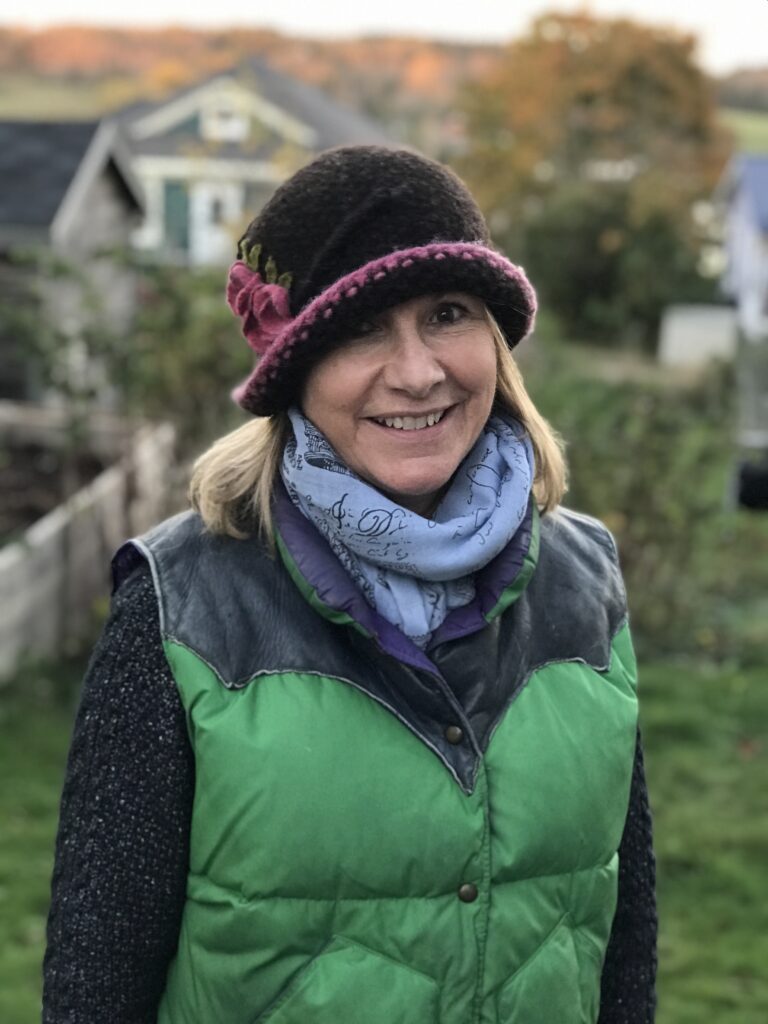 Some of these hats have already sold, but there are always new ones coming. Feel free to put in a colour request.
This is my Penelope hat. I hand knit an oversized hat and then using my two hands, soap and water I felt it down to size. This creates a super warm, water and wind resistant fabric. Many of these hats also incorporate my naturally dyed yarns. The process is very slow, but I have discovered that I'm happiest when working slowly. Choosing to make slow hats has been a transition over the past few years. I won't blather on about it now. I talk about it ad nauseam in past blog posts, but I will say that I absolutely love my customers for coming along on this journey with me.
This past summer was truly amazing. I had so many visitors walk away with the hats that I most want to put out in the world. I am so grateful for your support and it's a joy to meet so many beautiful women. If you would like to see some fun customer photos, click on the Hat Junkies link at the top of the page.
This is my Isa hat, named for my beautiful Aunty Isa. (Hi Isa, if you are reading this. I love you!) The yellow trim was dyed with Goldenrod that I collected this summer. I think of it as preserving summer in a winter hat. The pink trim was dyed with Cochineal and the orange was dyed with Madder Root. (ok, between writing this post and hitting publish I sold the hat with the pink and orange trim, but I have enough to make one more.)
If you have been wondering about my sweater (please say you have been wondering about my sweater) it began as an extremely dirty sheep fleece from a sheep that lives 2 km from my home.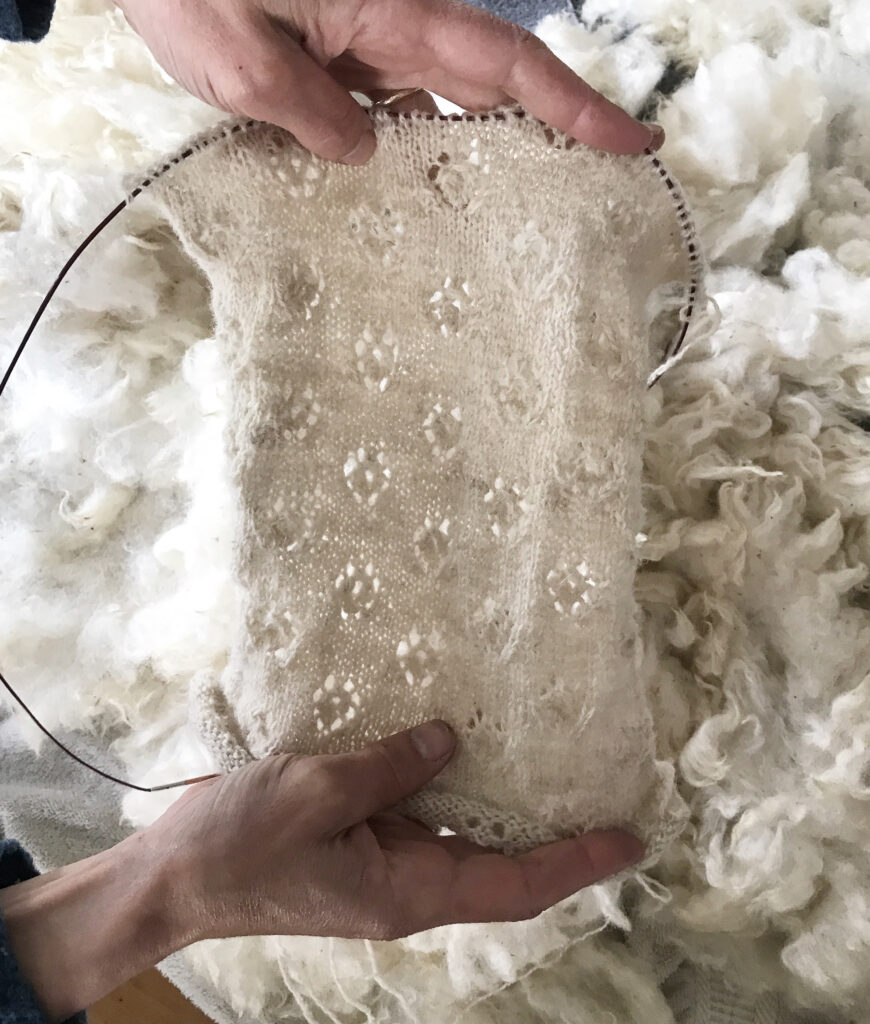 In the world of knitting and spinning and probably hatting, I have learned that I am, what is referred to as a "process knitter". Although the finished object is always in my mind, I'm really not that interested in finishing anything. I do finish most things, but sometimes when a project is nearly complete I toss it in a bag and ignore it for a few weeks. It's a bit like not wanting a favourite book or movie to end.
Remember my Franny cotton cloche? This has turned out to be one of my most popular styles ever. I was lamenting the fact that I only have two hands to make these when it occurred to me that maybe I could borrow someone else's two hands to help….
Meet Amanda. Last Christmas I decided to use my polar fleece scraps to make some kitty beds for our local animal shelter. I put out a call on Facebook to see if there were any sewists out there willing to lend a hand, Amanda raised hers. If you are looking for help, ask the busiest person around. Amanda has 3 young children and several jobs. When it got to the point when I realized I could use some hat sewing help I immediately thought of Amanda. She has been a god send. She is super talented and puts up with my perfectionist standards.
After seeing how cute my Franny hat looks on so many women I had to make a winter version. I have felted the wool fabric to create a thicker hat. The winter version comes down a bit lower, but I also make a less deep version. Some faces are overwhelmed by a hat that sits low on the brow. These are the colours I have made so far, but there are more coming.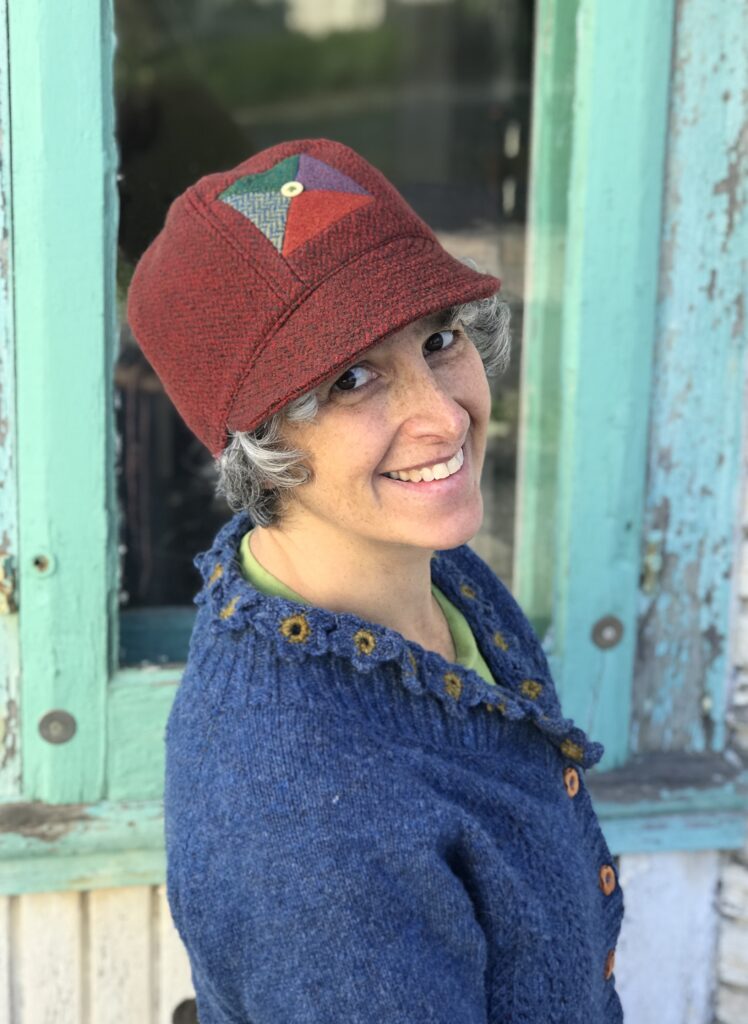 Another new kid on the block is my quilting cap. They are made from woven wool fabric and lined with silk. I don't know what happened, but I have become a real cap wearer. If you were around for all the years that I railed against baseball caps well, in the words of Rosanne Rosanna Danna, "Never mind." Caps are just the cutest kind of everyday, walk the dog kind of headwear. The first one I made was sold to my wonderful, former neighbour, Myra. So happy to send a bit of hatty love back to Stone Ridge, NY. And it blends in so beautifully with the foliage.
Last in the world of cute new hats are some hand knit and felted berets. Some are ready to ship and some need to be custom made. I really never get tired of making these. It's such a classic shape and the colour possibilities are endless.
OK, I lied, one more thing to show you. If you are looking for a gift for the romantic in your life, my Madeline headbands are pretty darn cute. I think of them as alternative hair colour. I have a whole bunch in stock right now and I'm always making more.
Also, I made a new video. I always have the intention of checking in with you all on a regular basis, but somehow, staying on theme, time gets away from me. I decided it was easier for me to just chat away than to hope you might read a book about the past six months of my life. There's some lovely Nova Scotia summer footage in there if you would like to fast forward through the first few minutes of chatter. Thanks for spending some time with me. xoxo Anna