New Hats and New Thoughts
Hello, hello! Seems that I have done it again. I have let far too much time go by before reaching out. I searched my book of excuses and the one that seems most honest is…Slow. I'm just slow at everything. And as I approach my 53rd birthday I am finally coming to terms with the fact that I have chosen slow. It's my comfort speed.
I do have a batch of hats for you today and the theme that bonds these hats together is…you guessed it….slow. I have so much to say about these hats and the cloth they are made from, but I will first share these hats with you and chat afterwards. These are all ready to ship. Please pay attention to the size of the hat in the title and the description. If you see something you love, but it's not your size please reach out. If you don't mind waiting I don't mind custom making your hat to fit.
If you click on the image of the hat you will be taken to the listing. Local Hat junkies, if you would like to pick the hat up I will refund your shipping charge.O.K, here we go…
I had so much fun making this pink felt hat. I had it in my mind for ages and it was only in the middle of the process that I realized I was bringing my shop sign to life. It's hand felted merino wool. I recently learned how to make this job harder by making the template much bigger and then felting it down to size. The result is a stiffer felt. Also warmer and stronger. I'm not exaggerating when I say that my hands were destroyed for a few days from hours of friction. Ah well, you must suffer for your art. (That last line should be read with a Russian accent.)
Stripes and flowers, anyone? I hand knit this hat from Canadian Dorset wool and then felted it. This creates a very dense and warm fabric. It has the structure of a felt hat, but the stretch and crushability (I think I made that word up) of a soft hat. The flowers are all made from merino wool. A hat to brighten any pandemic. There's quite a bit of stretch in this one, so it comfortably will fit a medium to large head size.
O.K, all eyes on the beret please. I know, it's being upstaged by the shawl. I knit this shawl for Tony for Christmas. It's ridiculously warm and he loves it, but there's no harm in..ahem…"borrowing" it when he's at work. I have a bit of a problem fully relinquishing my knitted gifts. Dustin has banned me from borrowing his sweater. I'm holding out for that tall child to grow a few more inches. But I digress….I hate to play favourites with my hats, but I really adore the hand knit and felted ones. I have always been drawn to hat styles that can be sat on or lost under a pile of books and still come out looking beautiful
Blue and orange. I can't get enough of this colour combination in my life. It's so darn cheery. This is the second cabled beret that I have made. The first one sold within minutes of sharing it on Facebook. I was curious what would happen if I knit a cable and felted it down. I love the result. It also made the beret a bit deeper, so it pulls down nicely over the ear. I made this one a bit larger than medium, so if your head size is slightly larger that average this will fit.
I wish I could have modelled this one for you, but it makes me look severely jaundiced. I love this colour so much, but I will have to enjoy it from the spectator's seat. Somebody out there will be able to bring a bit of sunflower hat shine to the winter.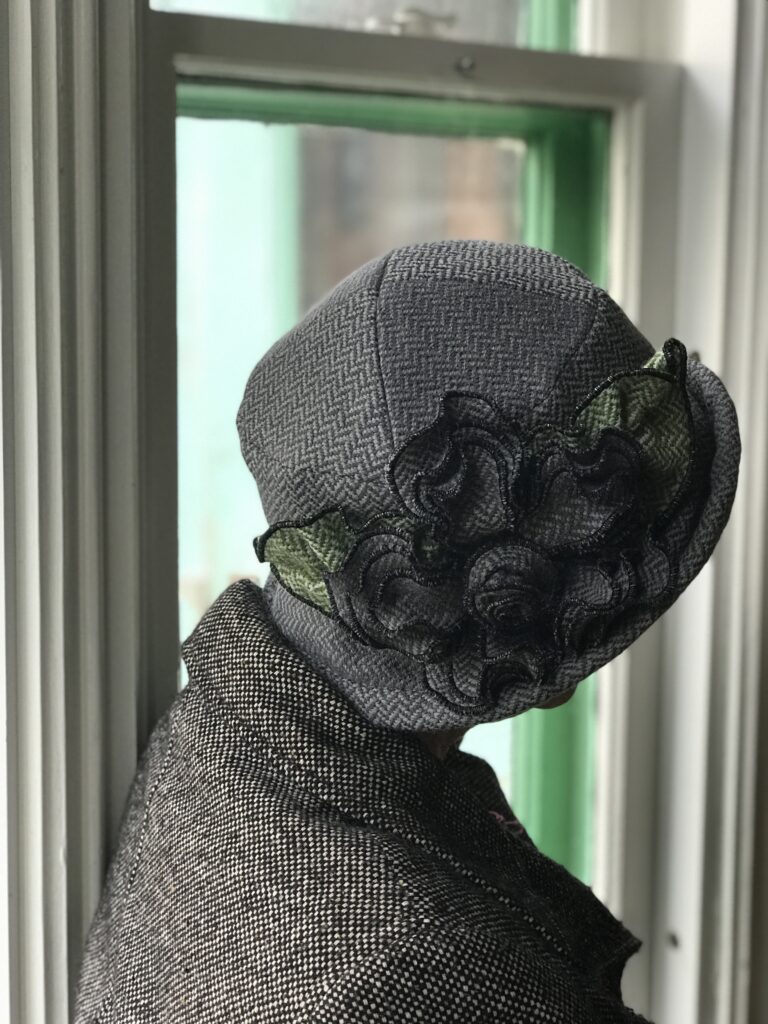 Oh, Charlotte. This is a hat I have made in fleece and in cotton/hemp jersey, but these handwoven wool versions are where my heart lies these days. It's lined with a very soft silk blend, so unless you have a true wool allergy you will find the hat soft next to your skin. These fabrics were handwoven for me by Marrie of Double Handwoven Designs in Lunenburg. I'm not sure how else to say this, but that's a big deal. It takes so long to make me this fabric, so I can only get her to do this occasionally. This cloth is precious to me. She weaves me five yards of each colour and then, it's gone… sometimes forever. I'll blather on about precious cloth later, but first let me show you the others that I made.
Funny thing about this green, When I chose the colours with Marrie I picked out a strand of chartreuse and a strand of teal because I love those two colours together. What I did not realize is that when you weave two colours together you end up with a third colour. I still love this green, but it was a lesson learned.
Here's one for the small headed ladies in the crowd. When I first saw how this colour turned out I was a bit disappointed, but that's all behind me now. Sometimes I can't see the true beauty of a fabric or colour until it has become a hat. It's such a soft colour. It was made by combining a light purple yarn with grey. If you know the true name of this colour please fill me in. It's almost mauve, but not quite. I'm calling it Claret because I have a dye that produces a similar result.
Last, but not least is Maisie in blue. The one that I have made up is a small/medium. It will fit between a 22″-22.5″ head size. If you can't focus on the hat because you are distracted by the beautiful mug in my hand you can order one from my talented friend Joan Bruneau. I pretty much want everything she makes.
Alrighty, that's it for hats. You can, of course, peruse the rest of my shop for custom made hats and I added a section called, Hats Gone By. I can usually make similar versions of sold hats.
Now for the blathering part of the show. As I mentioned earlier, the predominant theme behind my hats and the rest of my life is…slow and tied to this word is one of my least favourite words…money.
If it were up to me I would never put a price tag on my hats. I would just slowly work away and you might supply me with a season's worth of potatoes in exchange for a pretty hat. Better yet, you could come and clean my house. But as much as I like potatoes and hate cleaning I live in a world that requires money and quite a bit of it.
I know that as a crafts person I am not supposed to talk about money with my customers, but I always want to. Deciding how much something costs takes up an enormous amount of brain space and I want to share some of these thoughts with you. It's against all the rules, but I'm going to do it anyways.
There's a conversation that always happens in my head when working on a slow hat. As I begin, I imagine that I can make the hat in x amount of time and keep the price down. But I never actually hit that mark. After hand stitching all the details, hand sewing the linings, fussing over the layout of the flowers, felting the hat just a little bit more, adding in one more beautiful detail….I always end up overshooting that imaginary target in my head, sometimes by days. Then I worry. I really wanted the hat to cost this amount, but it should cost this amount. It's an exhausting inner conversation. In the past I have often set the price at the imaginary target price. This is the part that I have decided to change. It's the only way to keep making the slower hats that I love to make.
One of the things that has really helped me to take this leap is fashion history. I often immerse myself in fashion history podcasts as I work. I won't turn this blog post into a dissertation, but the one thing I'd like to highlight is the value of cloth and how that has changed over time.
I don't think I would have joined the Luddites and smashed those new fangled sock knitting machines, but I would have had a lot of sympathy. The Luddites feared that this machinery would devalue the work of making cloth and, yep, they were right. Not that the industrial revolution was all bad. For the first time in history regular people had access to clothing that was only ever accessible to the upper classes. Women could spend time doing other things than darning socks. If we could have controlled the output of cloth production then things might have gone differently, but profit and moderation are not good bed fellows. Prices for textiles can only be kept artificially low by over production.
Within a very short time in history we have gone from cloth being a precious commodity to cloth having no value at all. The challenge for me has been how to properly charge for something that people believe should be cheap.
What I most love to do is create cloth by hand. A while back I looked into knitting machines for making hats, but soon discovered that there are techniques that can only be done by hand. The same with felting. I could buy felt bodies that are made for hat making. This would take a couple of days work out of the hat, but factory made felt and handmade felt have different qualities and I love the texture that can only be made with two hands, soap and water. I also love the process itself. I can buy machine woven fabric and it will still be beautiful, but handwoven fabric has a different quality. I could make decisions based on what would be faster or cheaper, but I'm so tired of that. I want to make decisions based on what I truly love.
I have lately been sewing clothes for the menfolk and myself. I'm slowly replacing my wardrobe with items that I truly love. Making my garments changes the way I feel about them. Each garment feels special. I don't think you have to sew or knit to love your clothing, but I do think it takes a shift in thinking away from the concept of disposable clothing and embracing a time in history where a well made dress or hat was an item of true value.
O.K. Thanks for letting me ramble. I got so carried away that I almost forgot to share the truly big news in my life…
I chopped off all my hair! I'm so happy with it. It still stands straight up in the morning, but a little water and hair product performs miracles.
I hope you stay healthy and happy. Love from Lunenburg, Anna