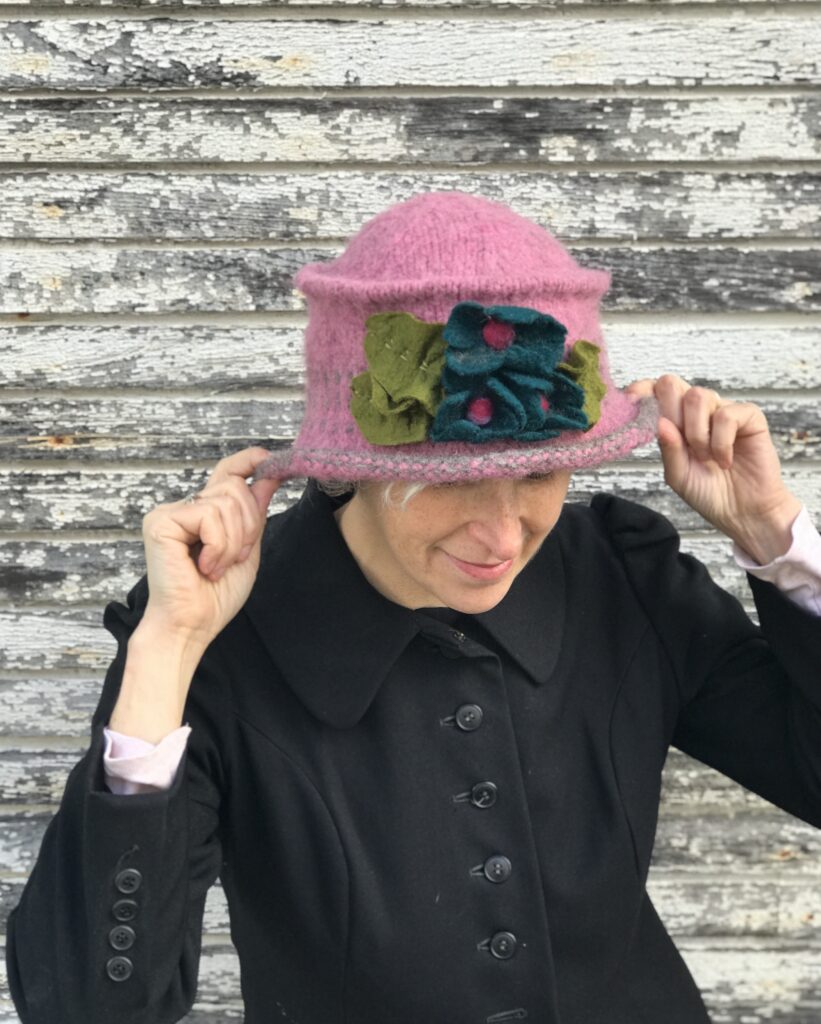 Hello from pretty and chilly Lunenburg. Hope the world is beginning to feel festive wherever you are. I have been cozily tucked away in my little doll house (aka my studio) making hats. As you probably know by now, I have been obsessed with wool and all its miraculous properties. I have also metaphorically fallen into the Natural dye pot. I dyed the yarn for the hat above with Cochineal. Cochineal is a tiny little bug that lives on the Prickly Pear cactus in South America. It is one of the oldest sources of red dye.
The pink stripes on this hat were also dyed with Cochineal. I can achieve so many shades of pink or purple from one dye pot. I have only begun to explore the possibilities. Natural dyeing is an exercise in letting go of control. The colour I achieve is always a surprise. It's one of the reasons these hand knit and felted hats are so special. Even if I repeat a hat, it will never be exactly the same.
This hat is not pink. (I know you know that) This one was dyed with Indigo, the oldest source of blue dye. The edge was dyed with Madder root. I really love playing with the shapes I can achieve. Creating a shape in a knit object is generally achieved by increasing or decreasing the amount of stitches in a row. It's all math….something I am terrible at in any other application, but when I am motivated by fabric I can call on my brain to reluctantly do the work.
So, in this beret I gradually increase the angle of the hat by gradually increasing the amount of stitches and then I go the other way. But in the first hat and in the blue hat, I create a knit hat body, felt it and then sculpt it like a milliner traditionally sculpts a felt hat body. I think of so many of my hats as make believe hats or comic book hats. They are whimsical versions of serious hats. Maybe the word is, "Folky". Folk versions of haute couture. Sort of fits my rural lifestyle.
Back to Pink…or is it purple? This is a one of a kind wool Franny hat. It's fully lined with silk, so it's a good choice if you find you are sensitive to wool. It fits a medium head size. This hat was made out of the last of this beautiful handwoven fabric. I have it in other colours, though.
I happen to be a pink lover. I also love blue and green and orange and grey and the whole rainbow, but pink says, "happy" to me. It's interesting how controversial this colour can be. Many women won't wear it because they don't want to be too girly. Many men won't wear it because they feel it's a feminine colour. The funny thing is, these notions were completely manufactured by a marketing board in the 1950s. Up until then, pink was a genderless colour. Actually, the gendering of colours started earlier than the 50's, but pink was originally assigned to boys and blue to girls. But the concept of gendering colours really took hold in the 1950s. Here's an interesting article that explains more about this topic.
If you honest to goodness don't like pink, let's talk about yellow. This is my friend, Emma Fitzgerald. You might know her because she illustrates a lot of books. I first discovered Emma by way of her book, Hand Drawn Halifax. Emma seems to see the world through sunny tinted glasses. She has a way of putting the beauty into architecture that may not be visible to viewers without a connection to the building. Everything looks a little brighter seen through Emma's eyes. Her latest children's book, Two Crows, can be found at Block Shop Books. I was so delighted when Emma wanted this hat….Sunshine for sunshine.
Speaking of talent…this is another friend and neighbour, Vanessa Mckiel. I'm truly surrounded by wonderful and talented friends. I made this hat for Vanessa because she is what we call in the knitting world, knit worthy. She is my walking buddy, so I get to visit the hat frequently. Although the hat was meant to be a gift, Vanessa gifted me right back with two of her gorgeous prints.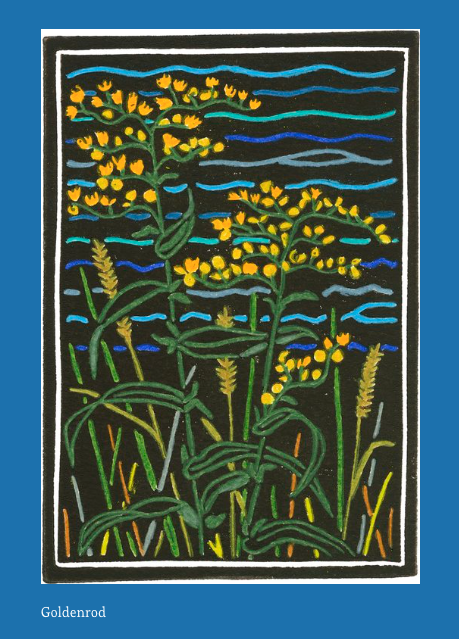 You really need to check out Vanessa's website…Especially her bio. If you see something you like on her site, and I promise you will, just send her an email. She's old school.
Well, that's pretty much all I have to share with you today in hat news, other than that I'm very pleased to have figured out how to put little videos directly on my website…even in my shop!
I so appreciate you all being here. If you aren't signed up for my newsletter you will see the little email box on my home page. If you can bear a little small business plea, read on….
I realize that purchasing a hat every time I send out a newsletter is not sustainable, but you can help me out enormously simply by spreading the word. This can be done by sharing this post on social media, by email, by telling a friend , connecting me with some famous magazine editor…..(a girl can dream, right?) Lunenburg in the summer is a vibrant and busy place, but in the winter I really need a little help from my friends to let hat lovers know I exist.
Many, many thanks. Be well,
Anna