My Off The Grid Sewing Machine, Custom Masks and My Market Day Socks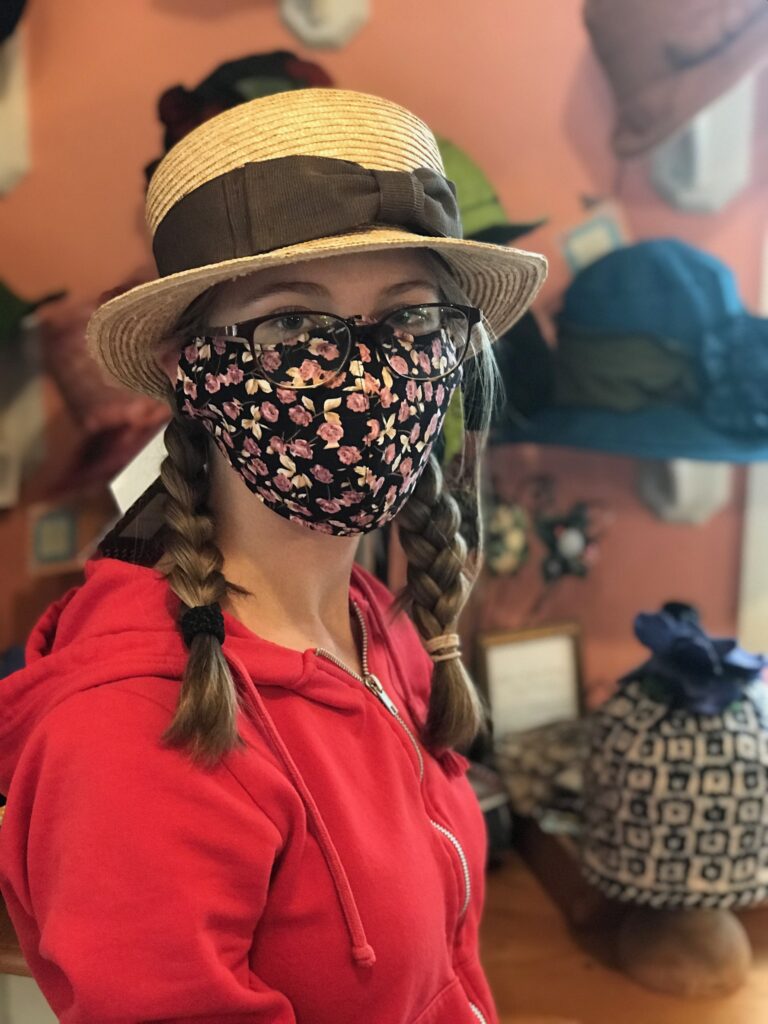 Well, I have done it once again. Despite every best intention to write things down as they come to me, I have piled up the many things I want to tell you about and created a lot of clutter in my mind. And now I will have to pass my cluttered mind along to you. I have got to begin somewhere and it won't be with the above photo. I just thought Leslie's adorableness might draw you in. I'll tell you about this talented girl later.
I'll begin at the literal bottom with My Pink Market Day Socks. Back in March when the reality of this pandemic was settling in I needed to knit something small and mostly mindless. I knit, I ripped, I knit, I ripped until finally I settled on a mostly stockinette sock with this beautiful little lace chain. Now, I know that there are 5 million sock patterns out there in the world and so many of them are free, but I think this little lace chain is totally worth the price of admission. You really have to knit it to understand what I mean. It's so simple and cute and addictive and you'll want to put it everywhere. It's knit with Lichen and Lace 80/20 sock from The Mariner's Daughter in Lunenburg. If you make an online purchase from them I will send you the knitting pattern for free. Just send me a copy of the invoice.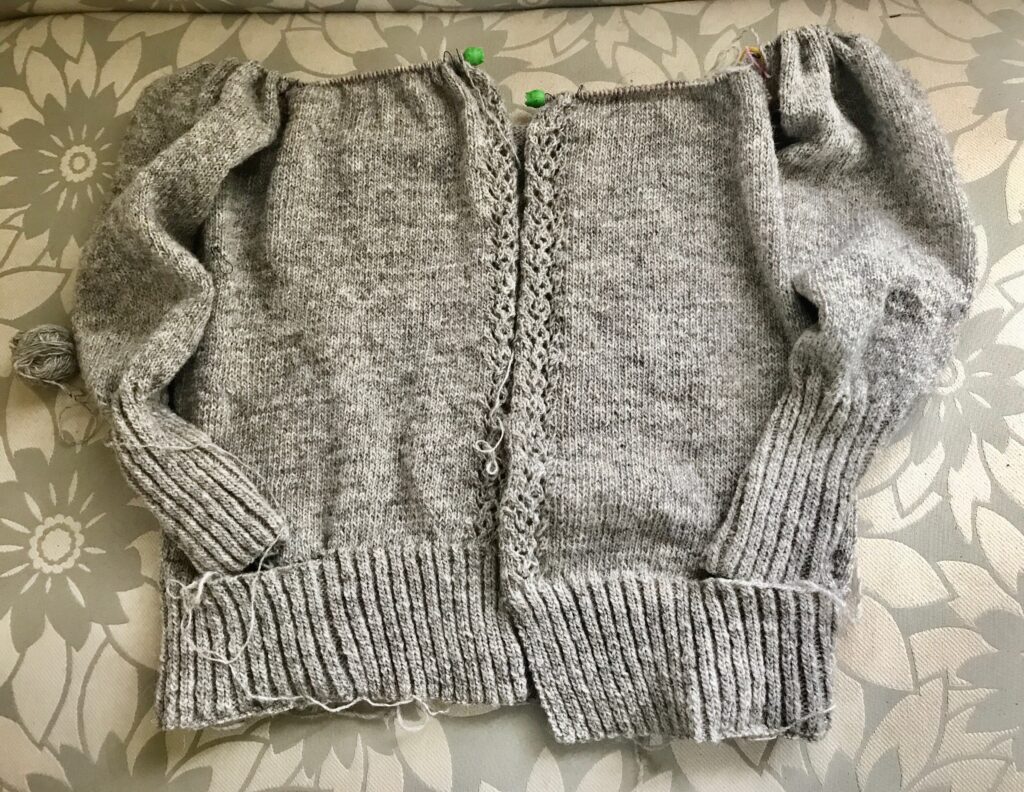 I'm currently designing this sweater and that same lace chain is climbing up the fronts. I hope to write this pattern up one day, but it takes months to write a pattern up properly. I love doing it, but finding the time is challenging.
Moving along to the opposite side of the body, I have been sewing a lot of masks these days. The last I left you I had made a batch and then sold them, but as I repeat a task I make new discoveries and I realized that with a few measurements I can easily customize the masks to fit your faces. The words: small, medium, and large can mean so many different things, so now, instead, you give me your measurements and I'll do the figuring out for you. If you read the description of each mask you will see how to measure. I have actually been having a lot of fun sewing these masks because I am making them on my new, state of the art, off the grid sewing machine.
Behold my beautiful Singer treadle machine, circa 1910. This machine belonged to my great grandmother, Anna, who I was named after. Legend has it that she used it to sew men's tuxedos. I'm also wondering if she sewed masks on it during the Spanish flu.
This beautiful machine came into my life many years ago courtesy of my Auntie Isa. I always remembered it in my Grandmother's apartment in Montreal. She had it electrified. When I got it, it still had the motor on it, but about six years ago Tony had it restored to a treadle for me. At that time I tried to get the coordination, but I couldn't figure it out. With orders in front of me I put it aside and just treated it as an object of beauty.
I'm sure you can all relate when I say that this pandemic has taken away the order of time. In the absence of structure I found myself letting one day flow into the next without any sense of accomplishment. I decided that I would demarcate the weekdays from the weekends by giving myself permission to garden, sew clothing, or take on other projects that I had filed under "no time for that". So, a few Sundays ago I stared at my great grandmother's machine, took a deep breath and took the plunge. A little oil, and a few Youtube videos later and I was treadling away like a pro.
Can I tell you a secret? It's so much fun! It's not hard and it's as fast as my electric machines. The whole experience has really made me question this whole new fangled electricity thing. Alright, I will admit that electricity does have a place when it comes to things like light and heat and washing machines, but when it comes to can openers and sewing machines, it's dumb. I have been sewing for 26 years and I have only just discovered this. The energy required to make my sewing machine work is the equivalent to gently rocking back and forth on a rocking chair. I think the treadle just needs a good marketing campaign to get it back into common use…Off the grid, energy efficient, green, burn calories while sewing…….
After the success of treadling on my Singer, I decided to tackle my antique Wilcox and Gibbs Chain Stitch Machine. This one takes a bit more foot power, but it sews beautifully. These old machines were built to last and built to be repaired. No planned obsolescence here. Can you tell I have a bit of a thing for old sewing machines?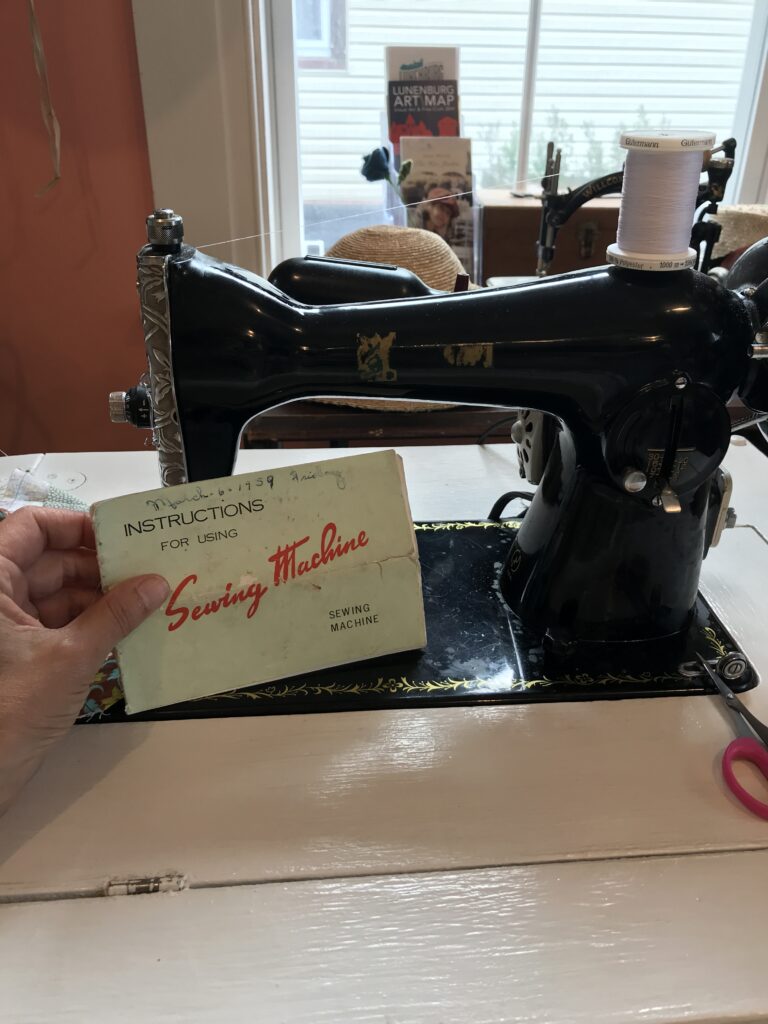 That's why I couldn't say, no when my friend asked me if I wanted her aunt's sewing machine from 1959. I tried to say, no. I swear I did, but I see these beauties like orphans. So, I took this one in and it got a bit crowded in my studio. I wanted to move it into the house, but it was causing a bit of marital strife. Tony started asking me questions like, will you take another sewing machine if someone asks? Like, what does that have to do with the price of milk? O.K. fine, I might have a problem.
So, this brings us full circle back to beautiful Leslie at the top of the page. Just when things were beginning to come to a head in the "just one more sewing machine" marital conversation, my friend Allyson came for a visit with her daughter, Leslie. Leslie has, completely on her own, taken up the hobby of sewing historical costumes. I mean Victorian dresses. She is teaching herself and doing an incredible job….all by hand. Not because of any allegiance to hand sewing, but because she doesn't have a sewing machine. Are you thinking what I thought? You don't have a sewing machine?…Would you like a sewing machine? She was so excited and I was so happy to pass along that beauty to a young girl with a passion for historical sewing. And we all lived happily ever after….
Wait, I am almost done organizing the clutter in my brain.
I would like to thank you all so much for my most successful Imaginary Craft Show (from my last post). I sold every single cap and more. I edited the caps section in my shop, so that you can now preorder one in your size. Click on the above photo to get there.
Making a batch of one type of hat and then posting them at once has been a very good way for me to keep myself motivated. I really can somehow convince myself that I have a deadline. Imaginary or not, it works. Currently, I am working on a batch of Charlotte hats. It's slow going and happens in between filling orders, but as soon as I have enough to bring to the (imaginary) market I will let you know.
Hope you are all keeping well. Until next time..Happy Hatting.