Flowery Headbands for February
Hello, hello, I come bearing flowers….Flowers for your head to be specific. Without fail, every year around this time I create something very bright and florally. It's my way of warming up winter. I do have much to share with you, but let's start with my latest version of my Madeline headband. This began with a request from a customer and I really loved the result, so now there are more. The headbands are soft and stretchy and are hand dyed by me in many pretty colours. The fabric is a blend of organic cotton and hemp with a touch of lycra. Sewing always creates fabric scraps, so these little flowers are a perfect way for me to use up little bits of fabric that would otherwise go to waste. The flowers are removable and interchangeable. If you head to my shop you will see that on each headband there are a few different flower options. If ordering please let me know which one you would like. (Photo 1, photo 2…)
I may have gone a bit overboard with the colour options. Once I started it was really hard to stop. It's a bit like creating phone numbers…endless possibilities. Yes, these little cuties are available individually. Personally, I would not be able to choose just one. Although designed for this headband, they really are quite pretty on anything…hats, bags, coats, dresses, curtains…you name it, they adorn it. If you have a special colour combination you would like to see, I will be happy to custom make it for you, provided I have that colour in my stash. One last note if you plan to order these headbands/flowers, there is a currency converter next to the items. It's not working right now. You will only see the Canadian amount.
If you are not ready to completely deny the existence of winter then you might like to embrace it in a very Canadian manner. I hand knit and felted this Hudson's Bay stripe hat because I just love those iconic stripes. It's like a blanket for your head. You can see the hand felted flower if you look at the listing. This one will best fit a medium head size.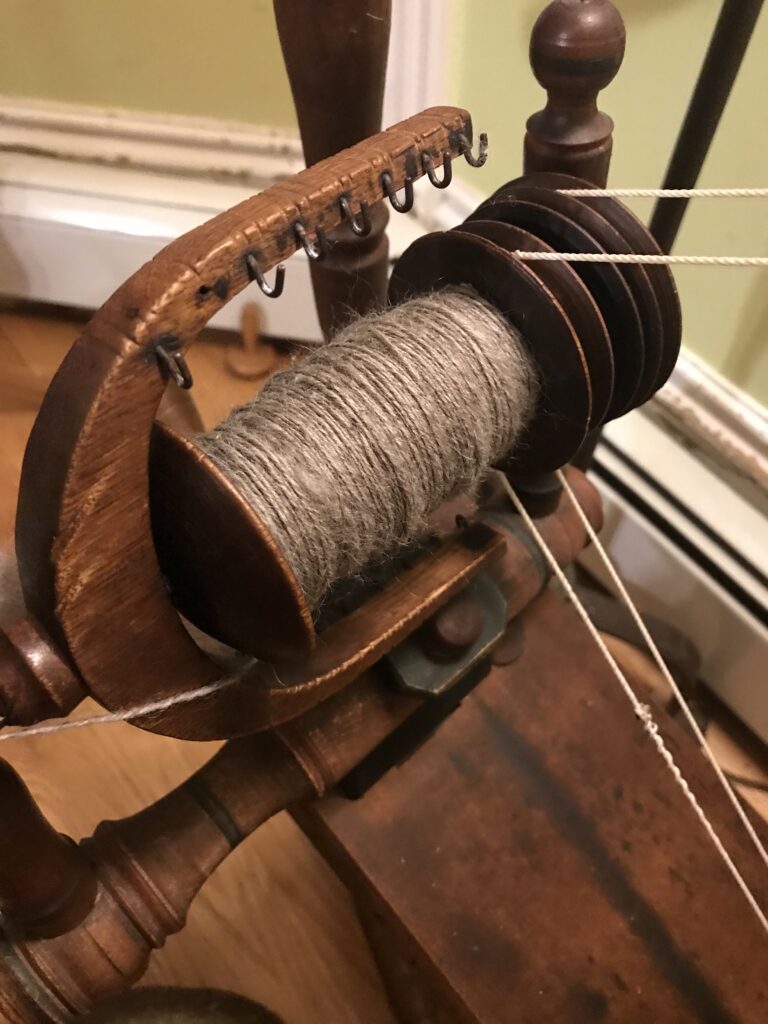 In other news, Tony bought me an antique spinning wheel. I was absolutely gobsmacked. I'm head over heels in love (I'm referring to the spinning wheel, but I love Tony, too.) The wheel was made in the early 1800s by Frank Young, a descendent of one of the first 50 settlers in Lunenburg County. The wheel is in perfect condition. It really overwhelms me to think that some woman, in the same part of the world as me, 200 years ago, sat spinning linen to clothe her family on this very wheel. It connects me to the past in a very physical way. I had never spun yarn before, but it has been in my dreams for quite some time. For the first few days there was not much in the way of yarn being made, but I did produce a lot of tears and curse words. Eventually, with the help of some internet friends, I started to get the hang of it. To say the least, I am obsessed. I put the question out there on Instagram, What is it about home spun yarn that's more beautiful? Is it my imagination or is this actually more special? I got the following response…
Spinning yarn is also such a soothing, meditative motion. Really, I'm not against mechanization. Progress happens and it's inventions like Spinning Mills that have allowed women to move past a life of darning socks, but there really is something to be said for exploring those seemingly mundane tasks like spinning to see how it makes you feel. You can only understand what you are missing if you allow yourself to slow down, breathe and follow the rhythm of the wheel.
The other unexpected joy from spinning has been the social media connection to other spinners near and far. I don't always combine the words social media and joy, but when social media is good, it's very good. Just start throwing around hashtags like #spinning #ilovespinningyarn and #spinnersofinstagram and suddenly your world opens up to other people out there who have also experimented with spinning their cat's fur….
Yes, I realize that this officially makes me a crazy old lady…ah well, it was bound to happen. Speaking of "old lady", It was my birthday this week and I had the most perfect day. I knit, I spun yarn, I ate cake and I went for the most glorious walk with my friend, Vanessa. Here's a one minute video of my spinning wheel and our walk in Stone Hurst, Nova Scotia. I have said it once, I'll say it again, I'm a lucky gal. Love to you all…Anna