I told myself I would write a new blog post when the Lupins were in bloom. Well, the Lupins are just on their way out, but better late than never. (Not to worry. I did get a pretty photo.)
Before we get to pretty flowers we need to talk about this hat. Currently, this is my favourite hat. You can be sure there will be another favourite in a couple of weeks, but this is it right now. I think of it as the girl/boy next door hat. It doesn't flaunt its beauty. It's easy to not notice it and instead turn your attention to the colourful bomb shell on the next hat rack over. But if you pay attention you might notice that it's just a damn good hat. It has tons of sun protection. The ties keep it on your head in a breeze and wheat straw is so subtly beautiful that it really doesn't need to be upstaged by flowers.
I actually made this hat for my brother-in-law, Chuck, who was visiting from Maine with my amazing sister-in-law, Amy.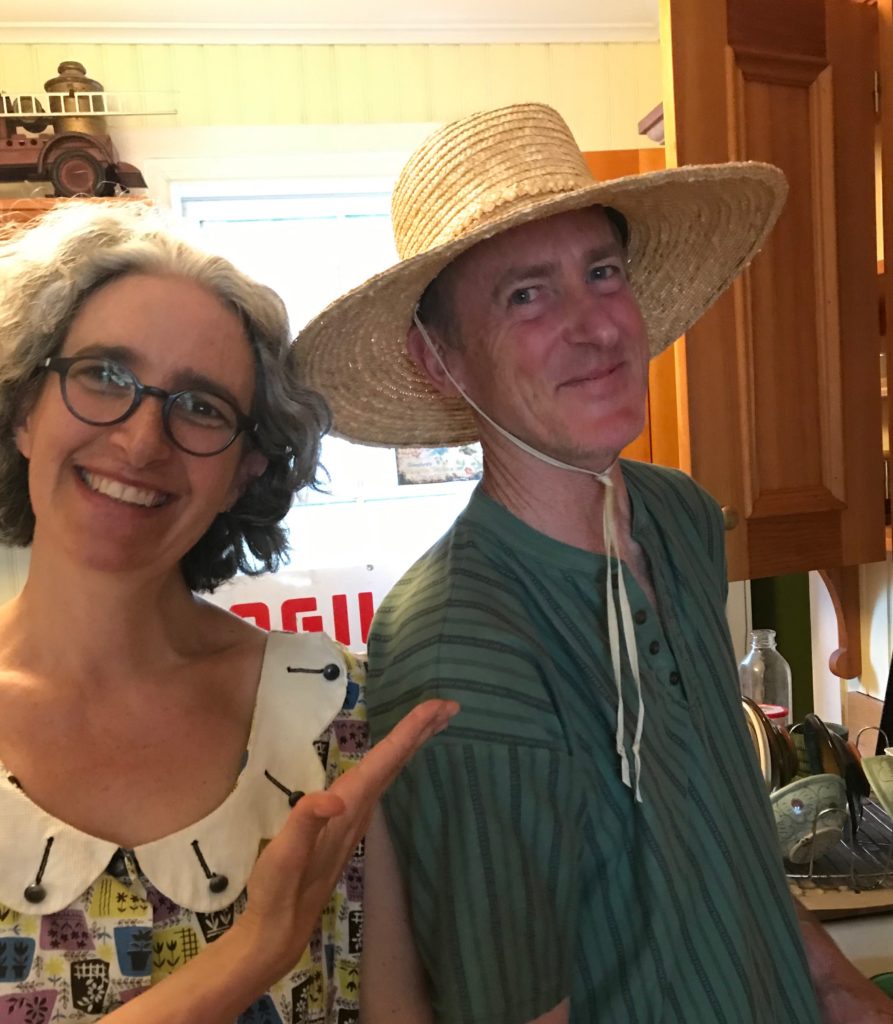 He requested a hat for working outdoors that would really give him proper sun protection. Et Voilà! I was delighted to send him home with a hat, but also sad to not have the hat anymore. So, I made another one and then as soon as it was done I walked across the street to show my 84 year old neighbour, Margaret, and she bought it. I was delighted that she bought the hat, but also sad to not have it in my studio again. So, I made another one…and that's where this story stays, for now.
Oh wait, I forgot I promised you Lupins.
Worth waiting for, don't you think? We had a cold and wet spring/ early summer. I don't generally do well in wet weather. It gets in my bones. But I developed Meteorological Stockholm syndrome. ( I made that up). It's a phenomenon where you start to sympathise or even love your weather captor. The colours of rainy days are so complex and moody that I found myself mostly enjoying what everyone around me called miserable. I didn't voice my feelings out loud because, is there anything more repulsive than a positive, cheery person when you are committed to gloom. But now that the sun has come out in spades I fee like it's safe to confess that I really enjoyed that wet weather. Knitting helps, too.
Did someone say knitting?
I knit myself a dress. I kind of made it up as I went along. Here's the back.
It took forever and a day, but I really enjoyed the process. As soon as it was done I headed down to The Mariner's Daughter to show them. Faye kindly offered to take my photo, so that I can show you. The yarn is a Shetland yarn from Hawthorne Valley Farm in the Annapolis Valley. Tony took me to Gaspereau Valley Fibres on my birthday and that's where I found it. The yarn is hard to come by because it's from their flock of five Shetland sheep. These are the natural sheep shades. I also knit the sweater I'm holding in my hand, but I better get back to hats.
I finally got around to making this hat for Tiffany.
Isn't she beautiful? Tiffany did some modelling for me a while back and I owed her a hat.
I have to tell you about the ribbon on this hat. I got an email from a lady who said that she had a whole pile of antique ribbon and she would be happy to give it to me if I could use it. I actually considered declining. ( I know, I know..) she had told me that it was over 100 years old and in my experience old textiles usually crumble. Luckily, Tony convinced me to take a look and it's a good thing I'm married to that guy. There were spools and spools of the most beautiful ribbon that was perfectly preserved in acid free paper. All from France and Italy. It's hard to actually use it, but I think it's better to get it out there in the world than to spend the rest of its days on a shelf in my studio. My only criteria for using this ribbon is that the hat needs to be worthy of the ribbon. I make these straw braid hats on a straw braid sewing machine from the same era, so I consider them to be worthy.
My straw braid sewing machine is truly my prized possession. I see from scrolling back through my blog that I bought it 2 years ago. I am just now beginning to feel confident that I can form a hat without a complete melt down. This hat was the first two coloured straw hat that I made. Oh the possibilities! And did I mention that the pile of antique ribbon also came with vintage millinery flowers? That's what you are looking at in the middle of the straw bows.
But as much as I love making my straw braid hats, I also love my hand blocked hats. In the case of the straw braid hats, I sew thin braided straw around and around and form the hat while I go. In the case of the straw above I start with a woven sack (It's called a hood) and using steam and wooden hat blocks I shape the hat. It's a simpler process and it allows me to have hats in different price ranges.
I was working on this one in my studio when a lovely lady came in, fell in love with it and commissioned me to make her this one…
Did I mention that I hand dye this fabric? It's all organic cotton and hemp jersey. Although I am currently smitten with the simple hat at the top of this post, I concede that sometimes bling is the thing. Actually, on most days I walk around looking like a Christmas tree. I just love colour.
It's been so long since I last wrote that I'm not done yet. Bear with me for one more photo.
It was really rewarding to make this hat for Amanda. She has a very small head size. That's not unusual, but people with small or large head sizes can rarely find hats to fit them. Amanda came by my studio and picked out the straw and the fabric. It's extra special for me to make a hat for someone who has never had a properly fitting hat.
Well, that's all for hat news right now. A quick word before I go about my absence from Facebook and Instagram. Although I miss many of the lovely interactions I had there, I feel I did the right thing. I needed to make my world a bit smaller. I am so happy to go back to slow communication. I spent much of my life writing letters to friends and when I began blogging it had that same slow communication feeling, just transferred to a key board. But when Facebook came along it slowly took away my need to write in full paragraphs. Updating my blog occasionally is better for me than small, frequent social media posts. But I do miss you guys and I really appreciate the comments. I don't always make the comments public if they seem like they were meant to be private, but I read them all and they lift me up.
I also really appreciate people sharing my blog with friends. It helps me enormously.
I wish you all warm breezes, plenty of gardening time, lots of knitting and swimming in lakes. That's my idea of perfection anyways.
Hope to see you soon.
Anna