Scrappy Hats and Naturally Grey Hair
Hello from deep within an unruly pile of fabric scraps. It is the time of year when my accumulated fabric scraps threaten to take over the world, or at least my studio. I have been fighting back and slowly…very slowly, turning them into hats. I have managed to make a grand total of three scrappy hats and they are now available in my web shop along with a few new hand knit and felted hats. Please pay attention to the size listed in the title because the scrappy hats do not have stretch to them. You can click on any photo to go directly to my shop. A note to my American hat junkies…The price you see is listed in Canadian Dollars. That's a bit like Monopoly money…very colourful without much value. As I write this, 1 Canadian dollar equals 74 cents US. So, it's around a 26% discount less the amount the banks like to keep for themselves.
While I love the finished product of my scrappy hats, I must admit that I'm a pretty impressive stress case while making them. These ones have 18 pieces that make up the crown and 12 pieces that make up the brim….A recipe for a sewing disaster. It requires...Math!!! I am a math challenged daughter of a math teacher father. If there's a support group out there for people like me I want to know about it. Flashbacks of just wanting the answer, but only ever receiving more questions wash over me and fill me with numerical PTSD. I am thrilled that putting together all these little pieces resulted in a hat that fits a human head, but I apologize that there isn't a larger size range. My only excuse is that it's really hard and it felt safer for those around me to call it a day with these three and come back to them after I have had a good night's sleep.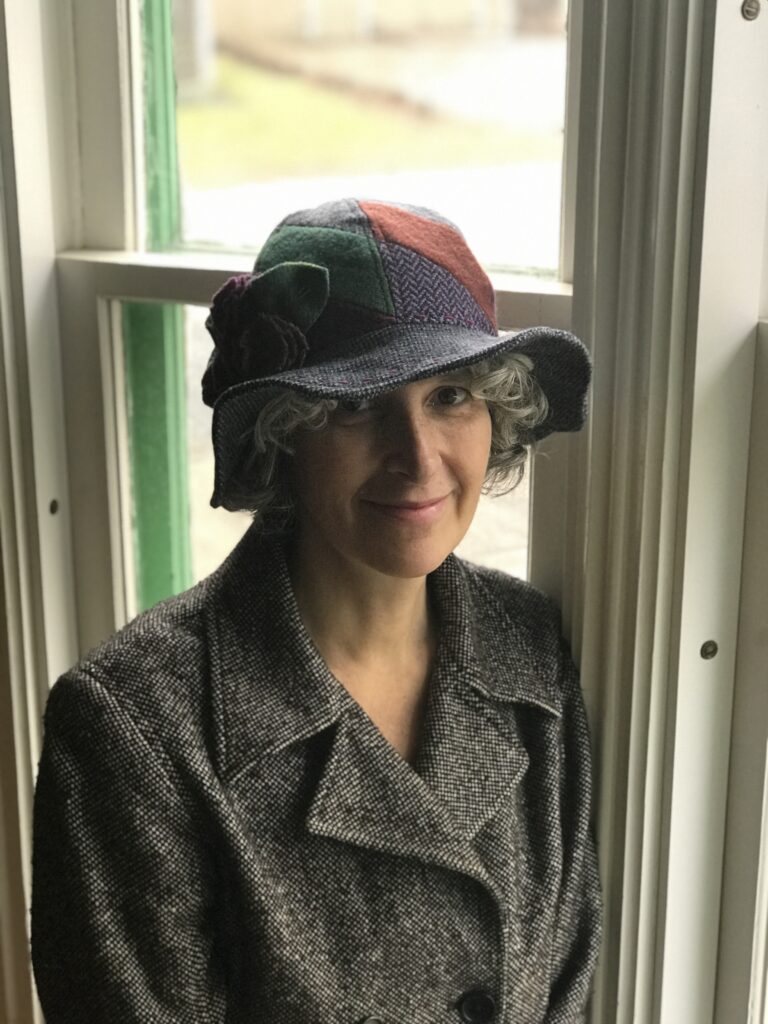 I also apologize for the dark photos. We have had weeks of rain here in Nova Scotia. Today the sun came out and I felt positively light headed from the blue sky.
Have I told you before how much I love my hand knit and felted hats? I make a lot of different kinds of hats, but if I was forced to just make one it would be these babies. They embody everything I hold near and dear to my heart, wool, fuzziness, sustainability, resilience, beauty and nature. I dyed this one with Indigo. It's the most beautiful shade of smokey blue that really compliments naturally grey hair. There, I said it, Naturally grey hair. My friend, Vanessa, coined this phrase and I will be using a lot. I thought it was too good not to share. Makes me feel like my grey hair is a coveted feature. I'm going with it.
I also made another hand knit and felted cloche. I love blue and red together. It's the cheeriest combination. This hat is so seriously warm. If you suffer with cold ears this is the hat for you. It's also one I can make in other colours.
Last, but not least, is my hand knit and felted skating cap. I don't know that a skating cap is actually a thing, but this style reminds me of vintage photos of children skating on a pond. I really want this hat for myself, but I think I'll make one in a brighter colour…maybe pink? I don't think I have a pink hat. How can that be? Must fix that.
Well, that's all I have for you today. Thanks so much for spending a moment with me. If you are so inclined, sharing my blog is always helpful. See you all soon, Anna